Pay-at-the-Table Solution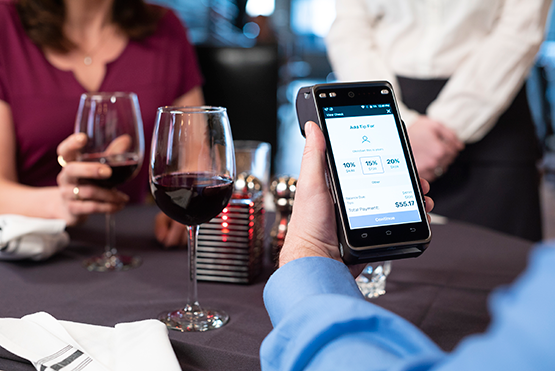 Get the tools to boost your bottom line
Our SkyTab Pay-at-the-Table solution combines state-of-the-art hardware with simple and intuitive software. Serve more customers and turn tables faster by eliminating the need for your servers to walk back and forth to the POS system. The customer-friendly payment interface supports EMV chip cards, NFC mobile payments, and traditional swiped card transactions, and includes the ability to split checks, add tips, and more
Improve your customer experience
Ideal for fine dining, casual dining, bar-service and take-out, Restaurant Manager's SkyTab solution provides a guest facing Pay-at-the-Table (PATT) experience. From Pay-at-the-Table to tableside reordering to customer engagement, SkyTab provides the tools you need to boost your bottom line and make customers happy.
There are a plethora of advantages to SkyTab Pay-at-the-Table for your business.
Increased operational efficiency
Seamlessly integrated with your Point of Sale (POS) software, you can easily place orders and reorder existing items that are on the check.
Improved customer experience
Prompt customers to rate their experience and alert management when a patron isn't satisfied, avoiding poor reviews or other negative online reputational damage.
Fully integrated
SkyTab is compatible with Restaurant Manager POS Systems as well as our back-end Lighthouse Business Management System (reporting and customer engagement portal).
Intuitive interface
Customer-friendly payment interface allows customers to split checks and add tips right from the table.
Accept multiple types of payments
SkyTab can accept EMV, NFC and swiped card payments, with the added benefit of Point-to-Point Encryption (P2PE) and Tokenization for maximum security.
Build your marketing database
Collect customer email addresses to populate your marketing database and increase repeat business.
Request A FREE Restaurant Consultation